Mortgage Information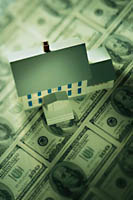 Mortgage financing options are important for sellers and buyers. The rise and fall of the housing market from 2002 to 2010, and the current slow recovery demonstrate why.
As a seller, you probably now realize that mortgage rates and qualification policies affect the values of their properties. When rates are low, and qualification requirements allow more buyers to purchase homes, the increased demand can result in higher property values and, therefore, a higher sales price for your house. But high mortgage rates and limited financing options reduce the number of buyers who can qualify for mortgages; continued sluggish sales can cause anyone's house value to decrease.
If you're like most buyers, a home is the most expensive purchase you'll ever make, and you'll probably need some form of financing.
There are many lending institutions that offer a variety of mortgage products. Financing options and rates can vary widely, so it is important to do your research and shop around to ensure you get the mortgage that best meets your needs at the best price. Nellie encourages you to use experienced loan officers with local offices (all loan officers offering mortgages on Maryland houses must be licensed by the state.). Please be wary of mortgage lenders based on the Internet: they may not be licensed in Maryland, they may not be aware of local costs and regulations, and some may fraudulently offering loans as a scam or identity theft operation.
Nellie is happy to refer you to some very good mortgage contacts her clients have worked with successfully, or to help you in any other way she can to secure the best possible rate for your home purchase.
---
Mortgage Payment Calculator & Amortization Table
This calculator will help you determine what your mortgage payments will be based on purchase price, interest rate and mortgage term, as well as other factors. The amortization table shows what the interest and principal payments will be over the term of the mortgage.